IOS Filter App with AdMob + UI Kits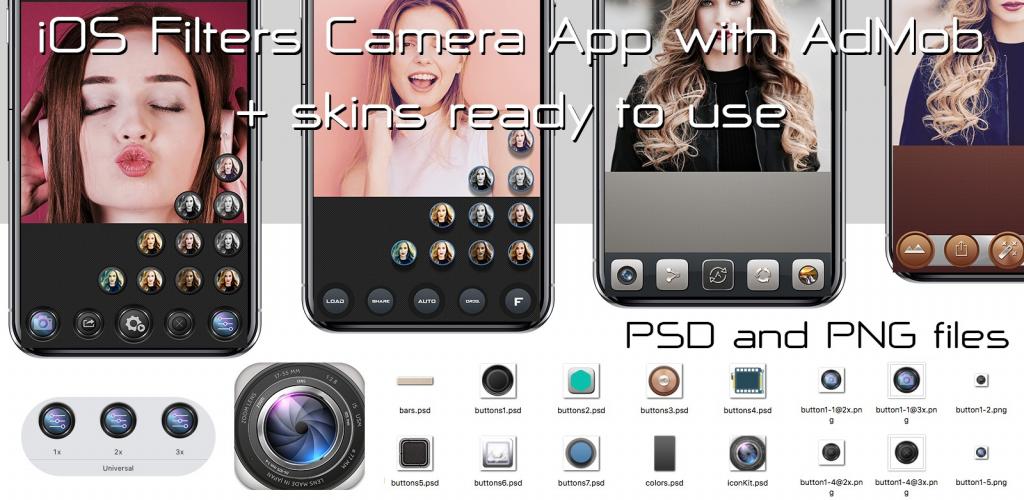 Screenshots
Overview
iOS Filters Camera App with AdMob + UI Kits ready to be published.

- All the PNG and PSD files included in the package can to be used to reskin and distribute your App in the AppStore.
- The Admob Banner is ready to be used: simply insert your own ad unit id and the banner is ready.
- Compatible with iPhone 5, 5C, 5S, SE, 6, 6 Plus, 6S, 6S Plus, 7, 7 Plus, 8, 8 Plus, X, XR, XS XS Max.
- It's very easy to reskin or modify.
- High resolution files in PNG format (@2x and @3x) and PSD files easy to be used or modified.
- AutoAdjust FIlter

- Language: SWIFT 4.2
- Compatible with iOS 10.x, 11.x, 12.x.
Filters list:

Ready to use:
AutoAdjust
Instant
Noir
EffectTonal
EffectTransfer
EffectMono
EffectFade
EffectProcess
EffectChrome
Monochrome
Posterize
Ready to replace or add:
ToneCurveToLinear
ColorInvert
FalseColor
SepiaTone
ComicEffect
HexagonalPixellate
Pixellate
SpotLight
Edges
LineOverlay
SpotColor
CircularScreen
CMYKHalftone
DotScreen
ToneCurveToLinear
Files included:
PSD files
PNG files
AdMob framework
Icon files
Launchscreen files
Storyboard file
PDF instructions files
Created with Xcode Version 10.1 (10B61)

AutoAdjust Filter Button
Share Button
Filters Button
Original Image Button
Load from Gallery or Shoot with Camera Button
Features
The App is a full Application ready to be published and requires only a very basic knowledge of xcode and AdMob. You don't need to write any line of code.
You have the possibility to reskin the App using the PNG or PSD files that you will find in the package.
How to Setup and Re-skinning
HOW TO USE ADMOB:
Simply insert your own AD UNIT ID and the banner is ready.
HOW TO RESKIN:
Simply replace the .png files in the "images" folder paying attention to keep the same height and width dimension and the same names.
HOW TO CHANGE A FILTER:
Just replace the name of the filter in the "CamController" file.
Last Update - Jul 11th, 2019
*Send us your email address, then we'll send you a sample app

14 Days
Money Back Guarantee
Framework & Platforms

Category
Operating System
iOS 10.x
File Included
.swift, Layered PNG, Layered PSD
Tags
iOS, iPhone, admob, filters, camera, skins, ui kit, reskin, psd, photoshop, vintage, lomo, cross process, kodak, photo, photos, pictures