3D Visualizer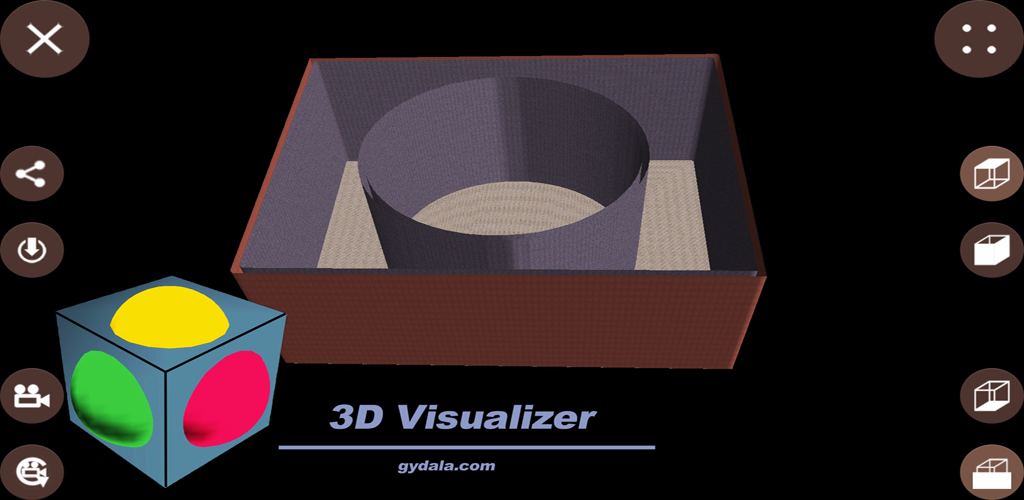 Screenshots
Overview
3D Visualizer
=> DEMO APK LINK
Admob integrated.
App with inApp purchases.
Translated to 60+ languages.
3D Visualizer - 3D Viewer for 3D model and 2D drawing converted to 3D object. With this app you can visualize 3D models of different formats and visualize 2D drawing in 3D mode. Draw any figures in 2D by finger touch and app will convert it to 3D model.
After convertation you can set color or texture for this model.
Load your own 3D model from sd memory or choose any presented models. Now app support next 3D model formats:
.asc, .obj, .3ds, .md2, .ser.
Features
Features:
- draw plan/shape in 2D mode and app will convert it to 3D model
- change texture or color in 3D mode
- load your own 3D model and change it s color or texture
- create 3D object from shapes in app.
Requirements:
Android Studio
minSdkVersion 16
targetSdkVersion 29
G
M
T
Y
| | | | | | | | | | |
| --- | --- | --- | --- | --- | --- | --- | --- | --- | --- |
| | Определить языкАзербайджанскийАлбанскийАмхарскийАнглийскийАрабскийАрмянскийАфрикаансБаскскийБелорусскийБенгальскийБирманскийБолгарскийБоснийскийВаллийскийВенгерскийВьетнамскийГавайскийГаитянскийГалисийскийГолландскийГреческийГрузинскийГуджаратиДатскийЗулуИвритИгбоИдишИндонезийскийИрландскийИсландскийИспанскийИтальянскийЙорубаКазахскийКаннадаКаталанскийКиргизскийКитайский ТрадКитайский УпрКорейскийКорсиканскийКурманджиКхмерскийКхосаЛаосскийЛатинскийЛатышскийЛитовскийЛюксембургскийМакедонскийМалагасийскийМалайскийМалаяламМальтийскийМаориМаратхиМонгольскийНемецкийНепальскийНорвежскийПанджабиПерсидскийПольскийПортугальскийПуштуРумынскийРусскийСамоанскийСебуанскийСербскийСесотоСингальскийСиндхиСловацкийСловенскийСомалийскийСуахилиСунданскийТаджикскийТайскийТамильскийТелугуТурецкийУзбекскийУкраинскийУрдуФилиппинскийФинскийФранцузскийФризскийХаусаХиндиХмонгХорватскийЧеваЧешскийШведскийШонаШотландский (гэльский)ЭсперантоЭстонскийЯванскийЯпонский | | АзербайджанскийАлбанскийАмхарскийАнглийскийАрабскийАрмянскийАфрикаансБаскскийБелорусскийБенгальскийБирманскийБолгарскийБоснийскийВаллийскийВенгерскийВьетнамскийГавайскийГаитянскийГалисийскийГолландскийГреческийГрузинскийГуджаратиДатскийЗулуИвритИгбоИдишИндонезийскийИрландскийИсландскийИспанскийИтальянскийЙорубаКазахскийКаннадаКаталанскийКиргизскийКитайский ТрадКитайский УпрКорейскийКорсиканскийКурманджиКхмерскийКхосаЛаосскийЛатинскийЛатышскийЛитовскийЛюксембургскийМакедонскийМалагасийскийМалайскийМалаяламМальтийскийМаориМаратхиМонгольскийНемецкийНепальскийНорвежскийПанджабиПерсидскийПольскийПортугальскийПуштуРумынскийРусскийСамоанскийСебуанскийСербскийСесотоСингальскийСиндхиСловацкийСловенскийСомалийскийСуахилиСунданскийТаджикскийТайскийТамильскийТелугуТурецкийУзбекскийУкраинскийУрдуФилиппинскийФинскийФранцузскийФризскийХаусаХиндиХмонгХорватскийЧеваЧешскийШведскийШонаШотландский (гэльский)ЭсперантоЭстонскийЯванскийЯпонский | | | | | | |
Звуковая функция ограничена 200 символами
How to Setup and Re-skinning
Open in Android Studio
- change color (color.xml), change icons (images)
- change app name
- replace admob id for banner and interestitial
- replace inApp purchases keyString
Video
Last Update - Nov 10th, 2019
*Send us your email address, then we'll send you a sample app

14 Days
Money Back Guarantee
Framework & Platforms

Category
Operating System
Android Studio
File Included
.java, .xml, build.settings, Layered PNG, Native
Tags
android, app, 3D viewer, 3D visualizer, 2D to 3D
Video