Adquiz Ionic Multilingual Quiz App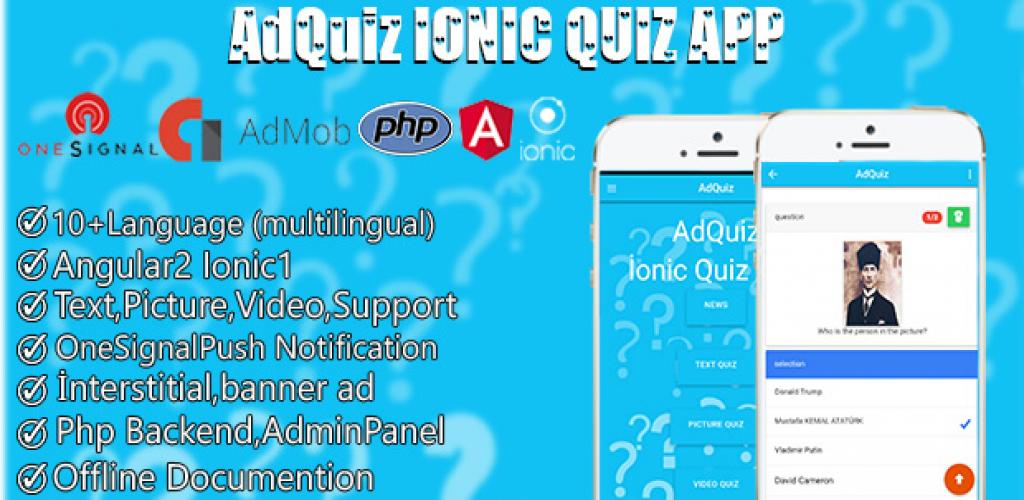 Screenshots
Overview
Adquiz created with Angular2 & ionic 1, has multiple language supported a hybrit application.
You can create/delete question and answers in control panel.
You can create quiz what text, image, video based.
Quiz Process
It will continue until the question you have added.
When answered the question as true or false, you will see this.
End the quiz you will see your score, how many true and false answers you have.
You will earn money with admob, banner and transitional ad.
Has integrated with onesignal push notification system and you will send users at the moment.
We added news section and you can show your users blog, news, and announcement.
There is a about page for about yourself
There is ratings for users and you can redirect users to your google play or appstore account's page.
There is 10 or more languages in the app which are English, Turkish, Arabic, Espanol ...
Features
Onesignal Push Notification
Admob Ads
Php Backend Admin Panel
Angular2 Ionic 1
multilingual
10+ language supported
rtl language supported
text,picture,video supported
How to Setup and Re-skinning
1.Change one signal and AdMob,RestApi information in the project
2Upload rest-api.php and admin-panel.php to your server
Detailed html
The document has been added.
you can customize by following step by step
Last Update - Nov 25th, 2017
*Send us your email address, then we'll send you a sample app

14 Days
Money Back Guarantee
Framework & Platforms


Category
Operating System
Android Eclipse, Android Studio
File Included
.xml
Tags