Amazing Thief Blueprint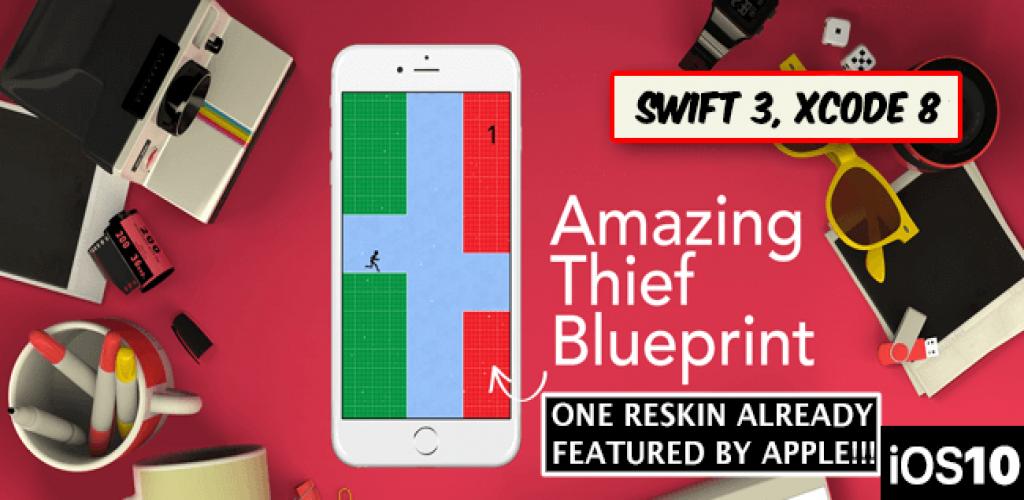 Screenshots
Description
Comments (14)
Overview
iOS10, Swift 3 and Xcode 8 ready! Works on iPhone6S , iPhone6S Plus and iPad Pro!
One reskin already featured by Apple 901 times!!!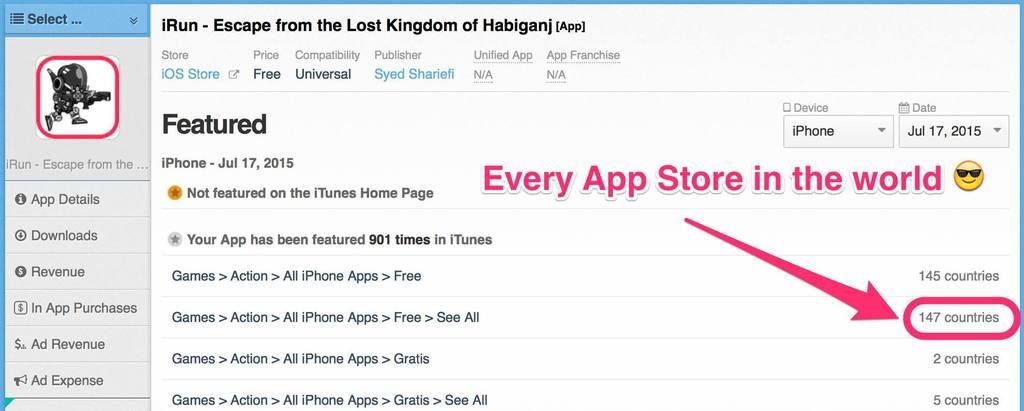 Download iRun from the App Store and give it a try. Enough about spending hours in front of your computer searching and being totally lost without achieving any results. Have you ever wished to find a method to solve this never ending reskin struggle? There are so many awesome things you could be doing if you had enough time. Let's face it: until this point you spent time with one too many problems than you planed to. I know this feeling pretty well. I've had the same struggles but here is the solution!
Features
Get your hands on this #1 hit app right now. iOS10 ready. Setup in 15 minutes. A+ source code and support. Time is ticking… Rebeloper proudly presents Amazing Thief Blueprint. This little gold nugget is based on the hugely popular game. Ride the wave of publicity and make your own version of Amazing Thief. As you already know, these kind of apps have a high rise on the App Store but a relatively short lifespan, so you have to act fast to catch the "Amazing Thief Wave". Every day wasted is a lot of dollars wasted. Reskin your copy of the Amazing Thief Blueprint today! The sooner the better. The app is about a thief jumping from one rooftop to the other. He is running from something. He's probably being chased. He is running really fast. So fast that he's leaving everyone else behind. Are you fast enough to reskin this new hit?Are you fast enough to leave everyone else behind?
We are proud to make the best source codes on the market. Amazing Thief Blueprint is no exception. Just take a look at the features:
iOS10 ready
universal app (works on iPhone and iPad) – yes, even on iPhone7, iPhone7 Plus and iPad Pro
built with the latest Swift 3
ad network: Chartboost
dynamically generated gameplay (never play the same level)
No Ads In-app Purchase
Game Center leaderboard
share your score: Facebook, Twitter, Mail, iMessage
set up in 15 minutes
every art asset is a .png image file
More Apps page
Well organised Setup Folder for everything you need: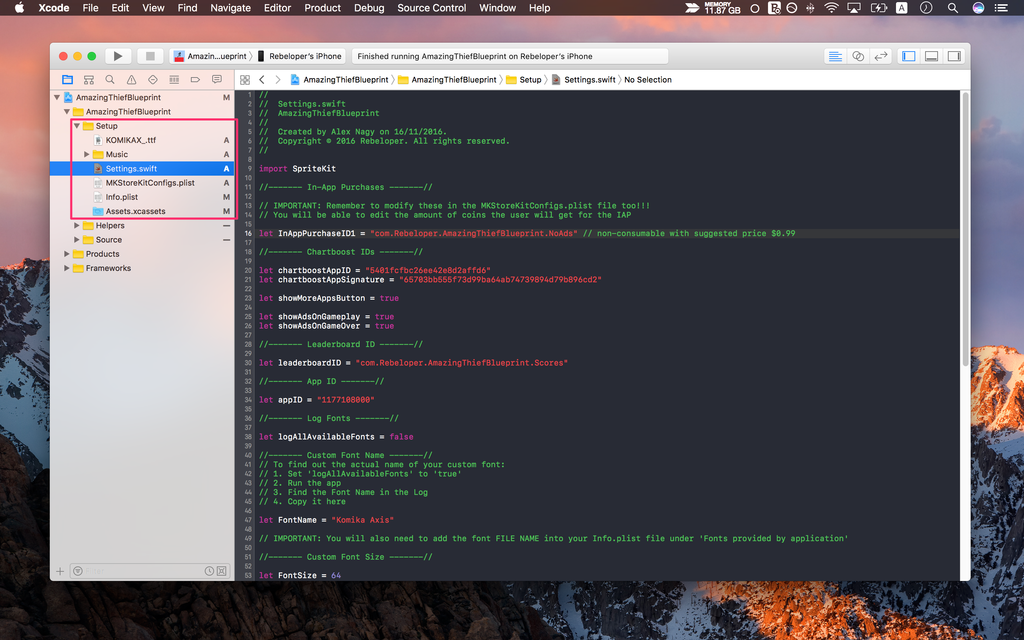 How to Setup and Re-skinning
Change Log
4.0.1 - (18.11.2016) - OPTIONAL
Added option to set gameplay speed (files changed: Settings.swift - lines: 93-97; GameScene.swift - lines: 233, 241, 265)
4.0.0 - (16.11.2016) - CRITICAL
Updated to Swift 3 - this is brand new project from scratch and is not compatible with earlier versions (no manual update can be performed; start with a brand new project)
3.1.0 – (14.12.2015) – OPTIONAL
Added Fyber (files changed: Info.plist, Defaults.h, PlistManager.m, AmazingThiefBlueprintSettings.plist, AppDelegate.m ; added files: fyber-sdk-lib, FyberCocos2dHelper.h/.m)
3.0.0 – (16.09.2015) – CRITICAL
2.0.1 – (08.07.2015) – CRITICAL
Fixed hero slowly sliding to the left and disappearing
2.0.0 – (17.04.2015) – CRITICAL
Updated Cocos2d to v.3.4.9
Fixed errors due to new Validations (No Common Blocks set to YES)
1.4
fixed issue when screenshot was not deleted when the app enter background (not updating could have your app rejected)
updated SpriteBuilder to v.1.3.6.
fixed positions of the Play and Game Center buttons to better fit in iPhone 6 Plus screens
fixed position gameplay score label to better fit in iPhone 6 Plus screens
*********** 1.3
fixed typo bug for showing Vungle ads at Game Over
fixed bug when hero flys up at dying (occurred when you tapped at the same time the hero hit the pipe)
updated to SpriteBuilder 1.3.5.
*********** 1.2
updated README
updated background image to new size (1600 x 2732) for iPhone 6 and iPhone 6+
tweaked code to support iPhone6 and iPhone6+ (ground and obstacles positions)
*********** 1.1 – updated Media.xcassets (icons and defaults) to support iPhone6 and iPhone6+ devices – IMPORTANT FIX: fixed crash on Share button for iOS 8.0.2 (occurring oniPad and iPhone5s) *********** 1.0. – Initial release.
Video
Last Update - Nov 18th, 2016
*Send us your email address, then we'll send you a sample app

14 Days
Money Back Guarantee
Framework & Platforms


Category
Operating System
iOS 10.x
File Included
.h, .m, .swift, Layered PNG, Native
Tags
64 bit, addicting, admob, affordable, best code, casual, chartboost, cheap, clean, fastest reskin, fyber, game centre, in app purchases, ipad pro, iphone 6s, iphone 6s plus, level system, more games, new released, no ads, pause menu, popular, rebeloper, swift, virtual currency
Video