Bitcoin Faucet – Fastest Bitcoin faucet ever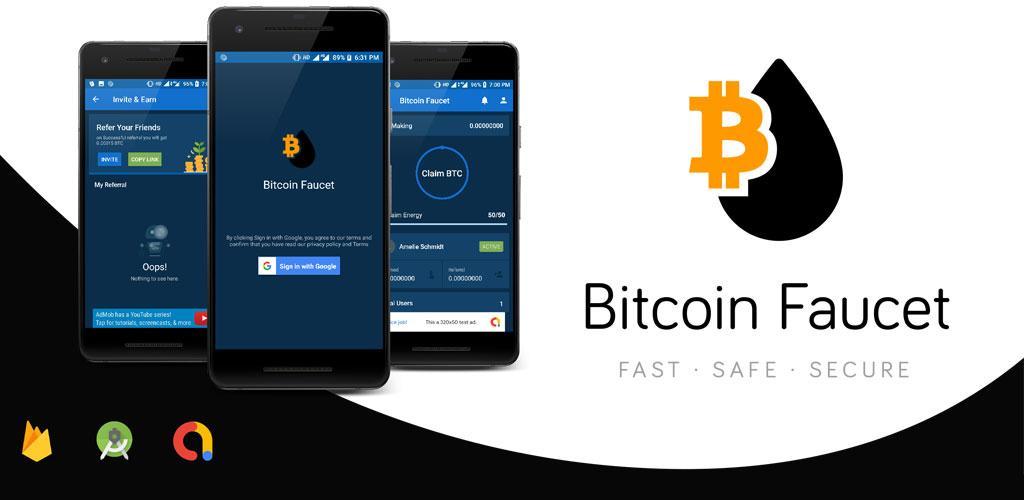 Screenshots
Overview
The Bitcoin Faucet app is an free earning app by just tapping on screen timer. It will accumulate bitcoin on regular interval and user can withdraw that amount once they reach to minimum threshold. It has Invite & Earn program to attract downloads and lots of user.
Try the Demo App Here : Download APP
Features
Features
Material Design UI
Fastest Faucet application
Admob integration
Invite & earn Program
Strong Powerful Firebase Backend
FCM Notification for every important Event of User
Google Sign-In for powerful and robust authentication
Leader-board for top 100 Earning Users
How to Setup and Re-skinning
1. Extract "Android Bitcoin Faucet.Zip" to your preferred destination in your computer
2. Open destination folder in Android Studio
3. Open "AndroidManifest.xml" from project menu in left side of android studio
4. Change the credential and attributes according to your account in 'string.xml' file res folder
5. Connect the Project to Firebase from android Studio or you can manually connect to existing firebase project. please visit below link for how to setup and connect android studio to firebase project.
https://firebase.google.com/docs/android/setup
6. After Successfully adding firebase to your project Rebuild the project from build menu and you all done in android studio.
Last Update - Jun 13th, 2019
*Send us your email address, then we'll send you a sample app

14 Days
Money Back Guarantee
Framework & Platforms

Category
Operating System
Android Studio
File Included
.java, .xml, build.settings
Tags