Blocky Rabbit Jumping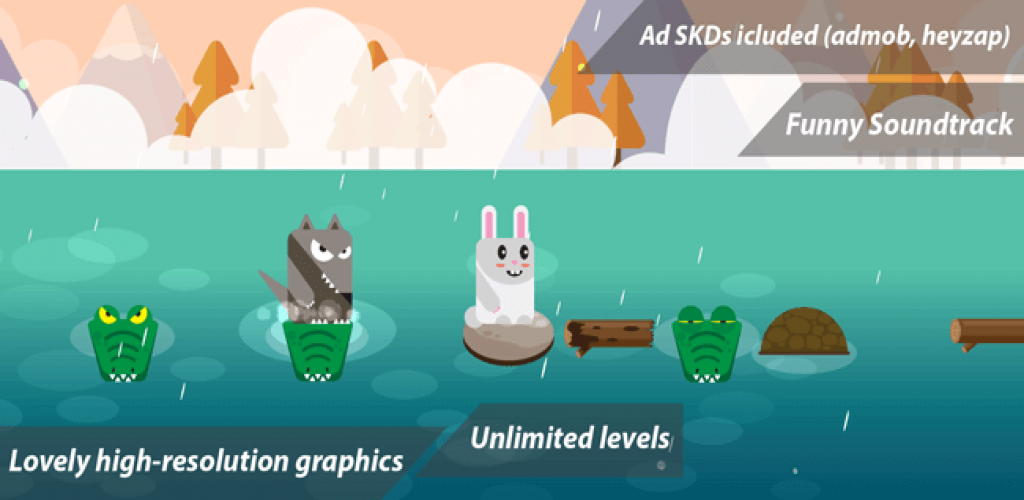 Screenshots
Overview
Blocky Rabbit Jumping is a relaxing game. It is suitable for all people in every age. It is an endless game so there is unlimited fun when playing.
Let's join in the running away from the aggressive Wolf with the Rabbit. Mission of player in this game is helping the weak Rabbit escape from his enemy and overcome all obstacles on the way he runs.
Running across the river, Rabbit has only one choice that is moving forwards. However, it is not easy for him. There are a lot of obstacles such as: dangerous crocodiles, Turtles and rotten woods….
How to play? It's very simple to play. Just Tap the screen to make the Rabbit jump. Tap on the left to jump one step. Tap on the right to jump two steps. Require patience and quick response ability.
Features
Graphics 2D, Fantastic and eye-catching Environment
Design more if Require Characters: 2 major Characters and Supporting Characters
Funny Sound track
Endless game play Cross Platform: iOS, Android
Source code was made by Unity Version 5.3
Video ads: Heyzap
Share with orther players
How to Setup and Re-skinning
You will be received the project after purchase. Open it by Unity and follow steps described in documentation file provided with the project, then you can reskin and make your brand new game easily by yourself.
Video
Last Update - May 13th, 2016
*Send us your email address, then we'll send you a sample app

14 Days
Money Back Guarantee
Framework & Platforms



Category
Operating System
Android Studio
File Included
.swift
Tags
Block, rabbit, jump, jumping, wolf, fun, race, endless, crocodile, cute, snake
Video