Diamonds Classic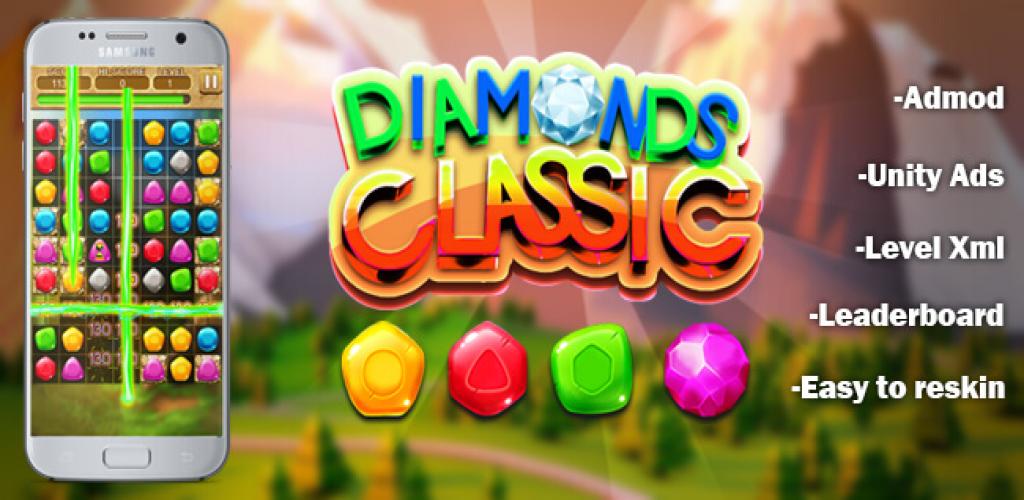 Screenshots
Overview
—————– Ready for publish on Android and iOS!————
—————– Don't need the programming skills! —————
——All Plugin SDK have been integrated into the project!—
— April 24, 2018: Update Version 2 – Fix bugs when build iOS, Now everything work perfect! --
Diamonds Classic- The most insanely addictive puzzle game ever!
Come back to legend diamonds game in this cool match 3 game, sliding and combining gems of the same type with your finger. Swap gems and charms in a line and solve the puzzle. Become the legend of magic jewels and crush every diamonds! Be like stars, give it a try in "Diamonds Classic" for free!
In this match 3 game you will have to rely on their own strength. There are no restrictions on the number of attempts through the levels!
Are you ready for this match three puzzle adventure? Become king and win the bonus! Use boosters to increase your score and top the diamond leaderboards.
Enjoy in your free time!
Features
– Completely FREE and Exquisite gameplay.
– Easy to play Hard to master.
– Hundreds puzzle levels waiting for your adventuring.
– Match 4 jewels can win the 1 line effect.
– Match 5 more jewels can get more usefully special props-diamonds effects.
-Experience a new gameplay with rich and exotic graphics!
-Powerful boosters to help with challenging levels!
-Global Leaderboard!
-Hundreds of adventurous levels!
* Link APK Demo: https://drive.google.com/file/d/152ehpZodhPDgzJMIiwg4oBznrMJleGW0/view
How to Setup and Re-skinning
-Understand Structure Game Project :

All scripts,resource,image,animation... are arranged according to their
respective categories in Assets->Scripts (Scripts); Assets->Texture
(Image)..etc..

-Admob :In Unity Editor -> Hierarchy -> Select Admob object -> Change your Admob ID ->Done!

-Unity Ads: In Unity Editor -> Hierarchy -> Select UnityAds object -> Change your UnityAds id ->Done!

-GooglePlayGamesPlugin for leaderboard :

+Android : Unity Editor,Select Leaderboard Object in Hierarchy -> Insert Leaderboard ID you just created on Game Services console ) -> Done!

+iOS : Open LeaderboardController.cs Script -> Change with leaderboard id ->Done!

Video
Last Update - Apr 24th, 2018
*Send us your email address, then we'll send you a sample app

14 Days
Money Back Guarantee
Framework & Platforms




Category
Operating System
iOS 10.x, iOS 9.x, Unity 5.x
File Included
.cs, .csproj, .dll, .h, .m, .obj, .prefab, .unityproj, .xml, build.settings, Layered PNG
Tags
app marketplace, app source code, buy android source code, buy Diamond Classic game, candy, classic, connect game, crush, diamond, Diamond Classic, diamond rush, game template, gems, jewel, match, match 3, match 3 game, match game, online games, puzzle game, puzzle game source code, ready to publish, source code Diamond Classic, unique app launch
Video