Dragon Puzzle Bobble Shooter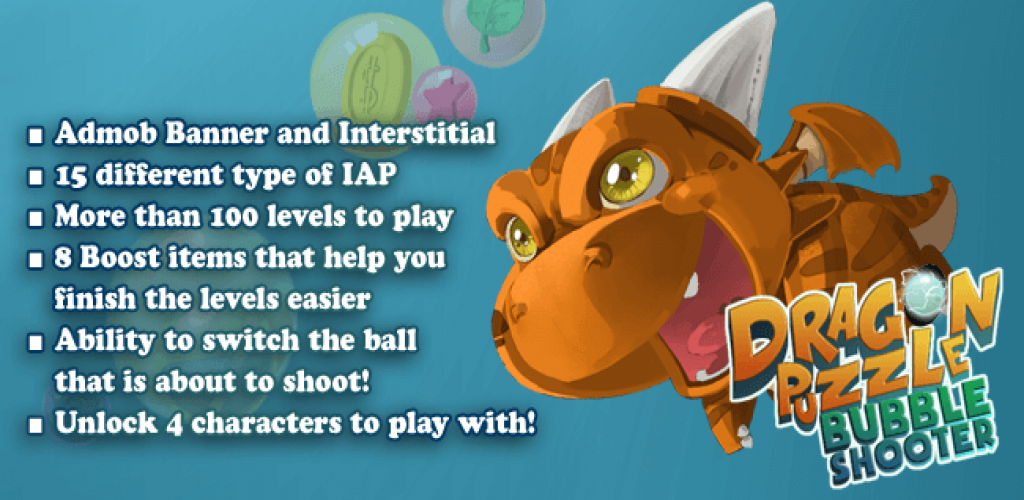 Screenshots
Overview
Once again from Hammyliem - Dragon Puzzle Bobble.
This is a popular game where your task is to shoot the bubble and pop the bubbles and win the levels. Shoot the bobble, and make sure the bobble connect with 2 or more other bubble whose colors are the same, and it will pop the bubbles
This game is made from cocos2dx.
Features
Requirement:
1. Understanding of cocos2dx for both iOS and Android
2. Eclipse & NDK ROOT- if you want to publish this game to android
3. xcode - if you want to publish this game to iOS
Features:
1. Admob Banner and Interstitial
2. In App Purchase, 3 items to purchase and 15 different type of in app purchase
3. More than 100 levels to play
4. Provide 8 Boost Items that can make you finish the level much easier
5. Ability to switch the ball that is about to shoot!
How to Setup and Re-skinning
iOS:
Change the id of in app purchase inside define.h.
You should change:
1. In App Purchase
2. RATE_ME_IOS
3. kMoreGameUrlIOS & kMoreGameUrlAndroid
4. GOOGLE_ADMOB_IOS_BANNER & GOOGLE_ADMOB_IOS_INTERSTITIAL
Android:
Go to strings.xml, and change:
1. app_name
2. admob_banner
3. admob_interstitial
4. appid
5. leaderboard
(FOR NOW, leaderboard and achievement are not implemented yet. Will definitely give updates when they are needed. BUT, the functionality is already in the code for both iOS and Android)
Video
Last Update - Aug 1st, 2018
*Send us your email address, then we'll send you a sample app

14 Days
Money Back Guarantee
Framework & Platforms



Category
Operating System
Android Studio
File Included
.h, .java, .m, .xml, Native
Tags
puzzle, arcade, bubble, shooter, match, 3, three, blast, bubble shooter, marble blast, marble, bubble blast, witch puzzle, witch marble
Video