Endless Sky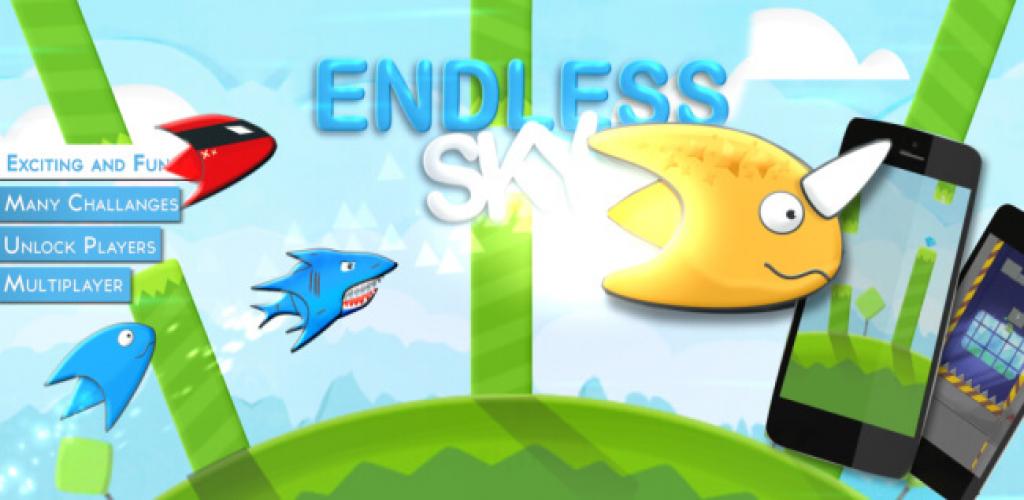 Screenshots
Overview
Endless Sky is 2D casual adventure game with lots of features! Fly across sky and avoid obstacles on your way or play with portals on factory level.
Download game: play.google.com/store/apps/details?id=com.CroHack.AcrossTheSky
http://www.youtube.com/watch?v=Zrs7ZiWuUxg
Features:
- Ads (Admob + Chartboost)
- Multiplayer
- Voice Control
- Generated platforms
- IOS and Android ready
- All graphics involved
- Buying system (collectables)
Features
About Game:
There are many adventures on your way and many challenges to unlock and exciting players that you can play with.
★ Gameplay:
Try to get as far possible while avoiding pipes and collecting diamonds,
there are even pipes that move so it wont be easy to get far. Or you can challange yourself how far can you go in portal level
while portals randomly spawns at different position every time.With collected diamonds you can buy different players and play with them.
And best of all you can play it with friends and challenge them in real-time multiplayer,
or if you wish you can play against random players across whole planet and see who is best on online leaderboards.
★ Voice:
Fun feature in game is that you can play this game with you voice!
So one sound = one jump, when you press voice button microphone will recognize sound and game will react to that,
so get creative and see how far can you get while saying words!
★ Portal:
In portal level is goal to avoid spikes and wall while you need to go between portals, this wont be easy since player is flying constantly and portals spawn at random positions every time, so think quickly.
Spike Level:
This level is in portal, but the catch is that spikes move towards player and will actually crash with player,
and if player collects diamonds spikes will go little backwards and aswell player needs to watch to go in portals so this level is tricky one.
Multiplayer:
Challenge your friends in portal level, and see go gets farest and its in real time multiplayer.
You can simply invite them by Facebook ingame invite and you can play right away.
Or you can go with quick play and try your luck against random player across world and see if you can beat him.
All results are saved on online leaderboards, you can see who is best that day, weekly, even monthy, and who is best of all time.
Unlock Players:
With collecting diamonds, you can spend them to buy many fun players that you play with.
Better players like birds or sharks cost more so you will need to play more, but its worth it.
There are various players in game like: Cookie, Bat, Ninja, Zombie, Ghost, Skeleton, Unicorn
and the last one Magdaleon which costs 1000 diamonds and you need to get at least 50 score on endless level.
★ Diamonds:
There are 3 types of diamonds in game, Blue, Green and Red diamonds.
While blue appear almost every time they count as one,
whilst Red diamond are the rarest they appear after long time of playing and count as 3 points.
So don't lose chance to get them and buy yourself a Magdaleon Shark player.
With all players to unlock and levels to explore there are many more challenges on the way, so get ready for endless fun.
How to Setup and Re-skinning
Setup and Reskinning process is very easy to do. Made in Unity and everything is already coded so only thing left is change in inspector tab values to your likings how you want to game work.
You only need Unity program and Eclipse for Android export..
There are all textures and animations for you to change, so if you want different player graphics you can easily change it.
Comes with all Unity files, animations, scenes, textures, and codes in package so that's one shot chance not to miss!!
Video
Last Update - May 7th, 2016
*Send us your email address, then we'll send you a sample app

14 Days
Money Back Guarantee
Framework & Platforms




Category
Operating System
Android Studio
File Included
.dat, .java, Layered PNG, Layered PSD, Native
Tags
admob, ios, android, free, ads, racing, adventure, multiplayer, unity, flying, flappy bird, charboost, endless sky, unlocking
Video