Finger Winner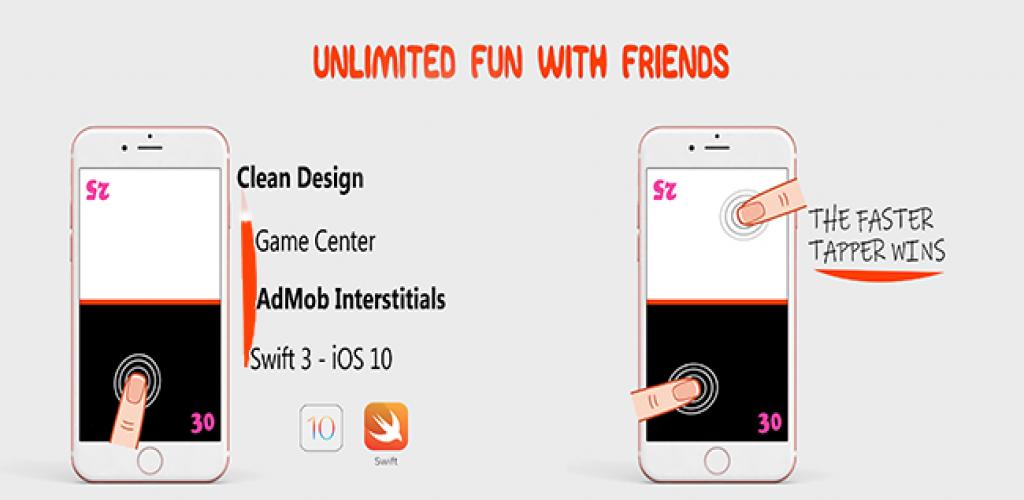 Screenshots
Overview
Finder Winner Battle is a fun iOS game to play with your friends and family The aim is to push red line to opponent side by tapping the part of the screen you are on. This is fully functional game comes with all artwork and source files. Written with Swift 3 in Xcode 8.2 as universal app. You can easily modify or load on app store as is.
Features
Enless Game Play
Leaderboard
Admob
Swift 3 iOS 10
Xcode
There is only one set up in source code where you go to Config.swift file and replace with your Admob interstitials unit id and Game Center Leaderboard ID
How to Setup and Re-skinning
You can change settings all of game process, it's easy, you just need to change value in settings file.
For reskin, you just need replace files in .xcassets file. It's really easy.
Project have good documentation and you can contact us for solve your problem!
Video
Last Update - Jun 14th, 2018
*Send us your email address, then we'll send you a sample app

14 Days
Money Back Guarantee
Framework & Platforms

Category
Operating System
iOS 10.x, iOS 9.x
File Included
.swift, Layered PNG
Tags
game center, swift 3, ios game source code, finger winner, source code for sale, fun, killtime, Application, IOS, Game, Full, Admob, Fun, Swift, Ads, Timekiller
Video