Foods Recipes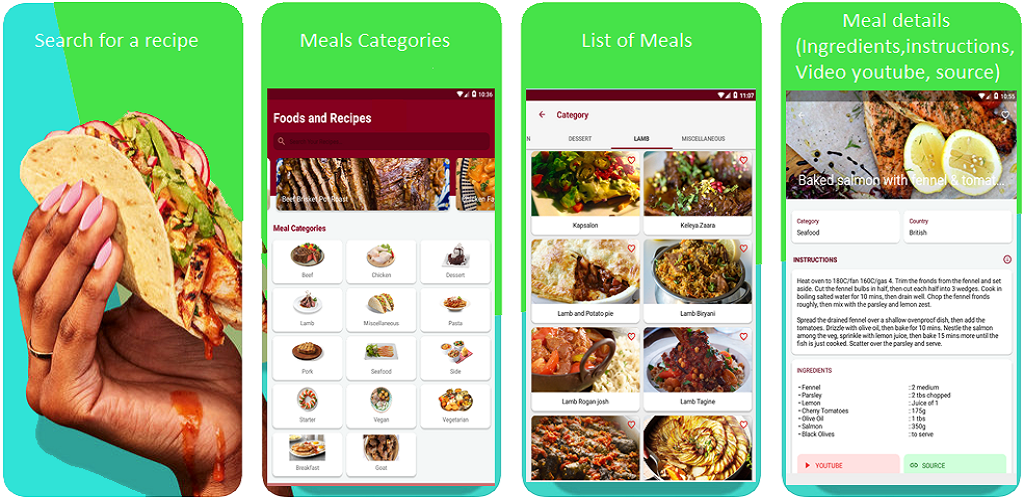 Screenshots
Overview
Foods and Recipes

Foods and Recipes is a native Android app full of recipes.With this template you can create your own recipe application with beautiful design and animations! .It is quick and easy.
This template provides you easy way to make your own app.
It does not require programming skills. Code is easily configurable and customizable.
Features
Features
---
Developed with Android Studio & Gradle
Support for Loolipop (Android 5.0) and newer
Search With your recipes
Animation, Responsive Design
Beautiful view
Recipe detail screen (country, ingredients, instruction, video youtube, source)
Material design following Android Design Guidelines
AdMob (banners and interstitial ad)
Ingredients check list
Open web link of the recipe
Well documented
Easy using
Video youtube recipe
Source link recipe
Top quality clean code
Ripple effect
Deep links
Support for high-resolution displays (xxxhdpi)
Responsive design and tablet support (portrait, landscape, handling orientation change)
Well documented
- Link Demo Apk for preview Here
- Send Me at say201025@gmail.com
How to Setup and Re-skinning

- What You Get
- Full Android Source Code
- Full Documents to make any changes to the App
- Help for any query
Video
Last Update - May 13th, 2020
*Send us your email address, then we'll send you a sample app

14 Days
Money Back Guarantee
Framework & Platforms

Category
Operating System
Android Eclipse, Android Studio
File Included
.db, .java, .xml, build.settings
Tags
chef food ordering app, FOOD APP, food delivery, foodpanda, online food ordering app, Restaurant Food Delivery App, swiggy clone, ubereats clone, admob, android app, android design, android studio, cook book, cookery, cooking, dish, drink, food, material design, meal, recipe, recipes app
Video