Slots 777 Vegas Game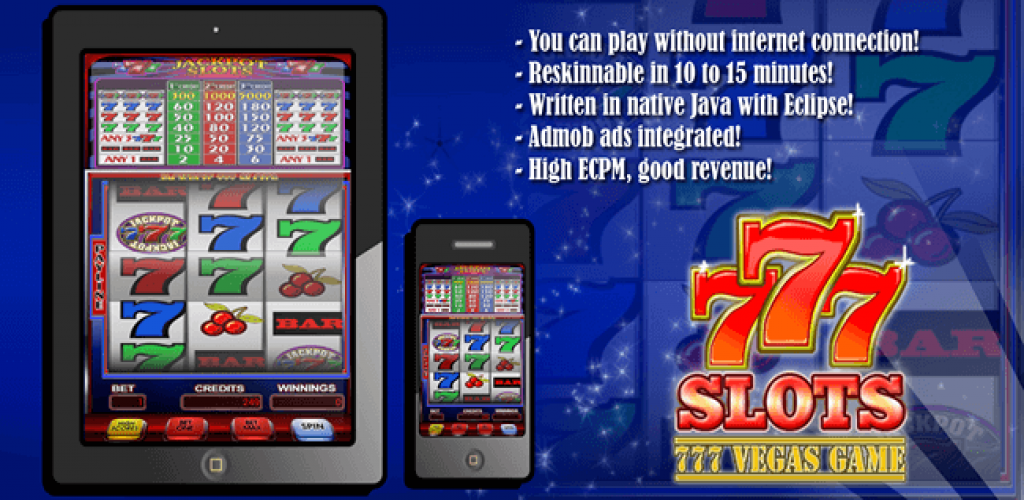 Screenshots
Overview
Feel free to have one of the app that could make you earn you well! It's a new Vegas Style slot machine app where you can play amazing slot machines anytime anywhere from your mobile device! Try your luck! A lot of challenging levels with beautiful design are waiting for you. Spin, hold, and nudge your way to riches.
Features
You can play without Internet Connection
Very Easy to reskin (only 10 - 15 images to reskin)
Written in Java native using Eclipse
Admob ads integrated!
HIGH ECPM, good revenue!
How to Setup and Re-skinning
File → Import → Existing Projects into Workspace → Import these followings:
Wheel
SlotMachine777HamZan
google-play-services_lib
You can run immediately!
Go to strings.xml to change:
app_name
admob_banner
admob_interstitial
more_apps
all the reskins are in drawable folder, drawable-hdpi folder, and drawable-xhdpi folder.
How to read the code:
app is started from MainActivity.java, and then when button max or click is pressed, check on function onClick(View v).
You will see there is a switch case, and for btn_spin and btn_betmax, you will see that they will call spinSlots() function!
just follow it from there… The code is really easy to read!
look at getResult() function, you will see switch(gold).
mWinnings.getGold(slotOne, slotTwo, slotThree); is to get which kind of payout we have!
it could be any of this or none:
JACKPOT, SEVEN_FUEGO, SEVEN, DOLLAR, BELL, CHERRY, DOUBLE_CHERRY, SINGLE_CHERRY, BAR
and the payout is calculated by this following snippet under function getResult(), inside switch case:
switch (gold) {
case JACKPOT:
mItem.setDiamond();
break;
case SEVEN_FUEGO:
mItem.setSeven();
break;
case SEVEN:
mItem.setTripleBar();
break;
case DOLLAR:
mItem.setDoubleBar();
break;
case BELL:
mItem.setBarCherry();
break;
case CHERRY:
mItem.setBarCherry();
break;
case BAR:
mItem.setBarCherry2();
break;
case DOUBLE_CHERRY:
mItem.setBarCherry2();
break;
case SINGLE_CHERRY:
mItem.setSingleCherry();
break;
default:
break;
}
Video
Last Update - Dec 14th, 2015
*Send us your email address, then we'll send you a sample app

14 Days
Money Back Guarantee
Framework & Platforms

Category
Game Template > Casino and Cards
Operating System
Android Studio
File Included
Native, .java
Tags
casino, slots, vegas, 777, slots casino, gamble, game, bet, blackjack, poker
Video