Spin Rush - 2D Addictive Action Puzzle game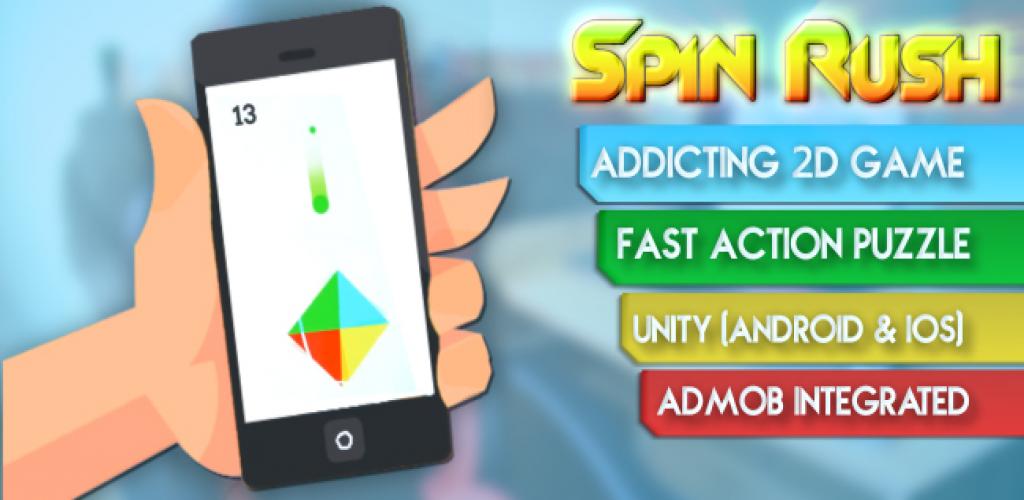 Screenshots
Description
Comments (10)
Overview
Download test app from here: http://www.mediafire.com/download/aggvlztg05bb04h/...
Spin rush is 2D addicting arcade type puzzle game. In game goal is to collect as many dots as you can while they fall, there are few tricks in game that make game harder like screen shakes and flips so game requires speed and reflexes.
Game is made in Unity so export to Android and IOS devices is ready to go!
Check Game Trailer:

https://www.youtube.com/watch?v=3_2s7vIY9rs
Features
Game is made in Unity so reskinning is easy, comes with all files and assets. (Game object presets, sprites, codes, graphics, sound effects..)
Full codes, all animations and textures, Android/Iphone/Pc export, all running fast and smooth.
There are +100 Assets - Including source codes, graphics, music, settings, assets and many more.
Game is easily reskined and is immediately export and publish ready. Only thing you need to do is change settings of game (code is all fully integrated) so adjust settings to your liking and replace graphics with your own.
Admob ads and banner are integrated already, just change to your ID number and start making money right away!
Menu all done with code, GUI and animations all customizable, programmed in C# and all code is accessible to modify even more!
Download and test game yourself to see how it works and its Bug Free.
How to Setup and Re-skinning
Setup and Reskinning process is very easy to do. Made in Unity and everything is already coded so only thing left is change in inspector tab values to your likings how you want to game work.
You only need Unity program and Eclipse for Android export..
There are all textures and animations for you to change, so if you want different color of Cube you can easily change it.
Comes with all Unity files, animations, scenes, textures, and codes in package so that's one shot chance not to miss!!
Video
Last Update - May 7th, 2016
*Send us your email address, then we'll send you a sample app

14 Days
Money Back Guarantee
Framework & Platforms




Category
Operating System
Android Studio, Windows Phone
File Included
.dat, .dex, .h, .java, Layered PNG, Layered PSD, Native
Tags
admob, puzzle, free, online, spin, arcade, multiplayer, rush, addictive, impossible, admob ads, spin rush
Video