Stickman Shooter Zombie Game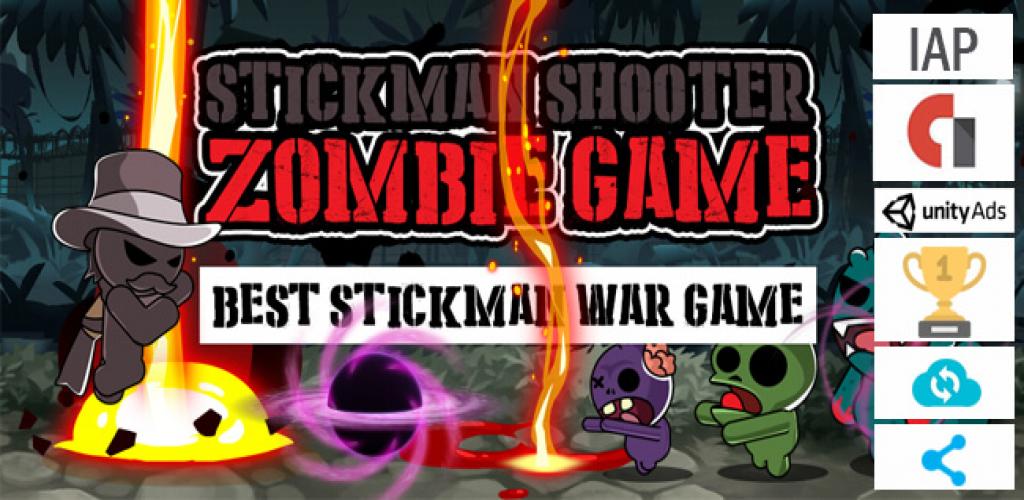 Screenshots
Overview
—————– Ready for publish on Android and iOS!————
—————– Don't need the programming skills! —————
——All Plugin SDK have been integrated into the project!—
-HALLOWEEN IS COMING!!Shoot zombie and rescue the world!
In "Stickman Shooter -Zombie Game" a lot of thrills are waiting for you! Shoot or die … the choice is yours!
With just a pistol and a few bullets, the grenades can get you through a frenzy of stick zombies?
Do you want to test your reaction with Kill Shot ?
How long will you survive the before you are dead?
In this amazing stickman shooter game, there will be everything you ever wanted
-HOW TO PLAY:
Move,Jump,Shoot and use special weapon support to try to not die for as long as possible!
* Link APK Demo : https://www.dropbox.com/s/2tzihroi1p7y9xx/StickmanShooter-ZombieGame.apk?dl=0
Features
-Framework Unity 5.6.3f1 support IOS,ANDROID !
-Admob !
-Unity Ads !
-In -Apps Purchase !
-Unity Analytics Remote Settings (Change some event IAP and Admob ID) !
-Spin mini-game included !
-Free gift daily!
-Endless mode with many of enemy,Awesome graphic,Rich and attractive sound, Beautiful UI, Fix screen size 4: 3 to 16: 9!
– Share game with link,titles (Android, iOS), Capture image for iOS !
-All have been integrated into the project! Just insert your ID to change admob,unity ads,IAP,Share,Leaderboard..etc..,Easy to setup and reskin !
How to Setup and Re-skinning
Main Game Project just 1 scence for all UI (Home,Ready,Main,Popups,Spin).You can find it in Hierarchy -> Canvas and Spin Canvas (For Spin Mini-Game)

* Hierarchy -> LevelManager Object: Controll All UI.

* Hierarchy -> AllCharacters Object : Control all player and enemies (Include Script ).You can easily change their properties like speed, spawner time, reward score..etc.You can find all script in Assets ->GunShooting -> Scripts .All Texture in Assets ->GunShooting->Texture.

( They are arranged according to their respective categories ).All script is easily to understand with C#!

* Hierarchy ->FreeCoinCallBack Object ( Change value day,hours,minutes,seconds for watch Unity video reward ads)

* Hierarchy ->FreeCoinRewardCallBack Object ( Change value day,hours,minutes,seconds for free gift).

* Hierarchy ->DataManager Object ( Change Init value etc coins,equipt items,score,best score,best distance).

* Hierarchy ->BoosterController Object ( For Equipt armor).
Video
Last Update - Apr 16th, 2018
*Send us your email address, then we'll send you a sample app

14 Days
Money Back Guarantee
Framework & Platforms




Category
Operating System
iOS 10.x, iOS 9.x, Unity 5.x
File Included
.cs, .csproj, .dll, .h, .m, .prefab, .unityproj, .xml, build.settings, Layered PNG
Tags
action game, app marketplace, app template, apps for sale, buy Stickman Shooter, ready to publish, shoot, shooter, shooter game, stickman, stickman destruction, stickman dismount, stickman games, stickman shooter, Stickman Shooter app source code, Stickman Shooter game templates, stickman war, unique app launch, unity source code, war, zombie, zombie game, zombie halloween, zombie hunter, zombies game
Video