Stylish and Fancy Text Generator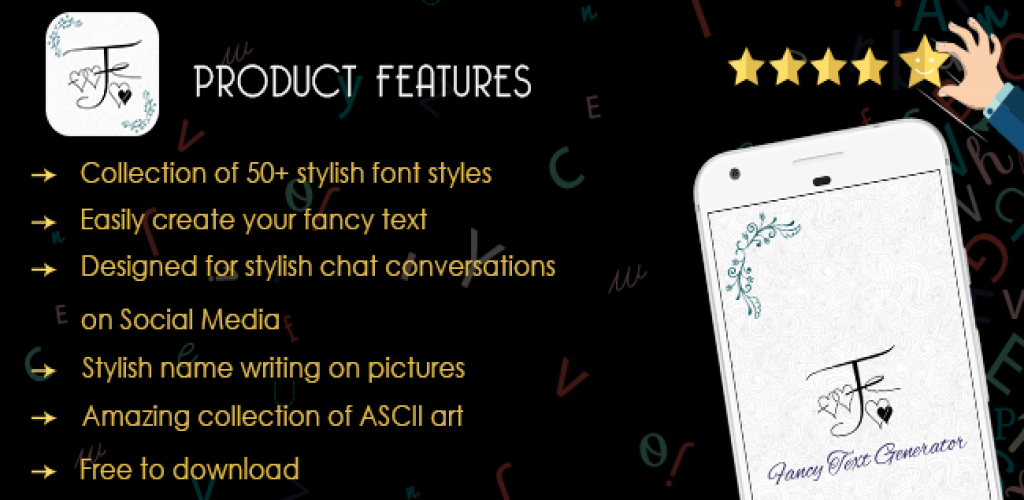 Screenshots
Overview
Stylish & Fancy Text Generator is very simple & easy to use with add-on features of adding stickers, decorative patterns & ASCII art designs to stylish fonts. With this app, you can decorate your text by choosing from different font styles, copy them to your clipboard & share on social media chat conversations. Apart from fancy text, you can also use fancy name art for writing your names on gallery or camera pictures and further decorating them with stylish designs & patterns.
Features
• Collection of 50+ stylish font styles for fancy text writing
• Easily create your fancy text, tap to copy to clipboard & share
• Designed for stylish chat conversations
• Cool fancy name art features for stylish name writing on pictures
• Amazing collection of ASCII art
• Support all types of applications on your iPhone, iPad and iPod touch
How to Setup and Re-skinning
You can change settings all of game process, it's easy, you just need to change value in settings file.
For reskin, you just need replace files in .xcassets file. It's really easy.
Project have good documentation and you can contact us for solve your problem!
Video
Last Update - Nov 13th, 2017
*Send us your email address, then we'll send you a sample app

14 Days
Money Back Guarantee
Framework & Platforms

Category
Operating System
iOS 10.x, iOS 9.x
File Included
Layered PSD, Native
Tags
cool text maker app, Fancy Text Generator, fancy text generator app, Stylish name art app, Stylish Text Generator, Write fancy name pictures
Video