Super Kong Saga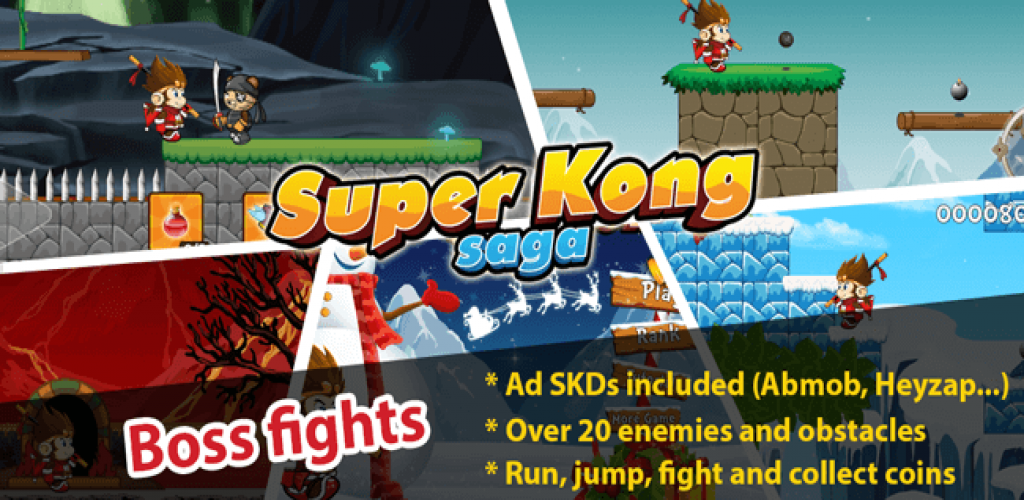 Screenshots
Overview
What's special about Super Kong Saga?
Super Kong saga is a cool and amazing platform game !!! Everything has been carefully designed for you to have a lot of fun! For A short time since Super Kong Saga published, It's gained a great deal of downloads on both Apple-Store and Google-Store
Kong-the monkey has super power with many skills and weapons such as: magic stick, boomerang, hard rocks, bombs...
How To Play?
Let's run, jump and beat enemies with Super Kong by simple touch buttons. You can also use it to chose his kind of weapons to attack angry animals on his way. Collect as many coin as possible to upgrade his skills or add more weapons. Also, Super Kong can pick up items on his traveling in each map! Find secrets and unlock extras to get the most out of the game. Compete with your friends and other peoples to get best score in this game! To play you simple touch buttons to run, attack, change weapons or jump. Super Kong can jump over his enemies or kill them then run to the end. Download Super Kong saga now and begin your adventure. It is a fun game for everyone. Try it out and enjoy!
Super Kong stands out with
- Saga map contains many beautiful environments
- great high-resolution graphics
- 20 levels overall (more coming soon)
- Retro platformer/side-scroller gameplay
- Shop system contains: skill, item or coin
- Over 20 enemies and obstacles for all saga map
-Underground, caves, snowy and water worlds, swim, jump and run
-Many boss fights:…
-Unlock free coins, buy items to make Kong stronger - Upgradable characters - Achievements - Leaderboards (Rankings for you and your friends to compete with player from other country)
- Achievements and leaderboards to gain, get best score over the world -Achievements and leaderboards through Google Play Game Services - Social network
Download Link:
Features
Awesome monetization pack:
- Interstitials: Admob
- In-App purchases
- Reward video(Unity Ads)
- Remove Ads,
Google Play Game Services:
- Leaderboards and show high score
- Gamecenter for ios
Social features:
How to Setup and Re-skinning
You will be received the project after purchase. Open it by Unity and follow steps described in documentation file provided with the project, then you can reskin and make your brand new game easily by yourself.
Video
Last Update - Nov 9th, 2016
*Send us your email address, then we'll send you a sample app

14 Days
Money Back Guarantee
Framework & Platforms



Category
Operating System
Android Studio, iOS 10.x, iOS 9.x
File Included
.cs, .dll, .obj, .prefab, .unityproj, Layered PNG
Tags
kong, saga, 2d, unity, game, run, rum, leap, travel, stickman, upgrade, many, map, face, against
Video