Tattoo World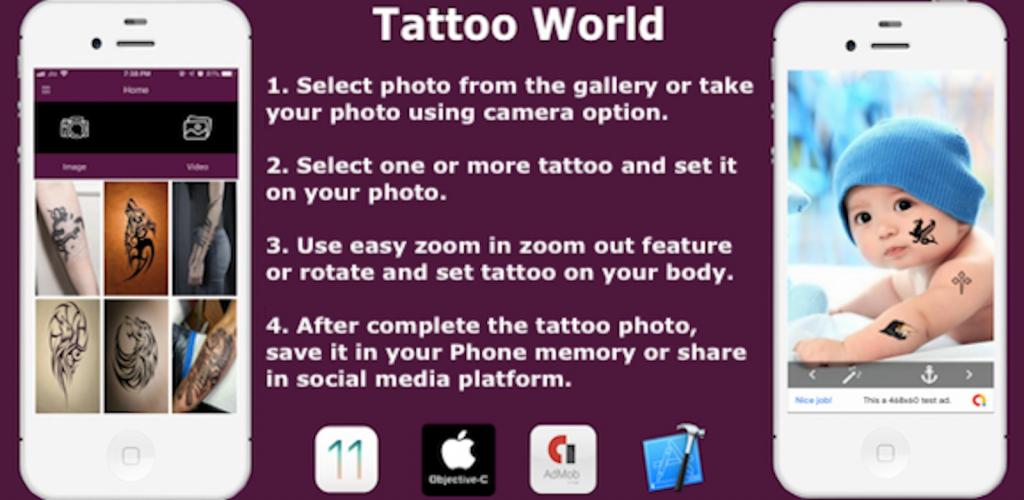 Screenshots
Overview
"Tattoo World" is application provided nice tattoos for everyone, with a simple interface and easy to use, it will create wonderful tattoos photo with high definition, also provide video and sample image, light and fast.
Easy to use and quickly save and share, you can manager saved photo with many functions as editor, delete, sticker, view detail, etc.
provides effects and design professional will give you the best tattoos for photo for everyone.
it is suitable for anyone? " Tattoo World " is suitable for everyone, especially for men and women want to create wonderful tattoo photo from their photo.
Features
1. Select photo from the gallery or take your photo using camera option.
2. Select one or more tattoo and set it on your photo.
3. Use easy zoom in zoom out feature or rotate and set tattoo on your body.
4. After complete the tattoo photo, save it in your Phone memory or share in social media platform.
5. Also provide video and sample image.
6. Attractive Design.
7. Ad mob integration.

Note:- We set free available Tattoo in "Tattoo World" Application.we do not tack responsibility.
How to Setup and Re-skinning
1. Upload app in app store
2. Redesign Application.
3. Customize Admob.
4. if client need more Tattoo we add.
Above charge Just in $100.
* All design and ITunes developer account provide by the client.
Video
Last Update - Feb 16th, 2019
*Send us your email address, then we'll send you a sample app

14 Days
Money Back Guarantee
Framework & Platforms

Category
Operating System
iOS 10.x, iOS 9.x
File Included
.h, .m, .nib, .obj, .pch, .xib, Native
Tags
Tattoo World, Tattoo, ios application, my tattoo, real tattoo, sticker tattoo, share tattoo, apply tattoo.
Video