Tic Tac Toe - iOS Game Source Code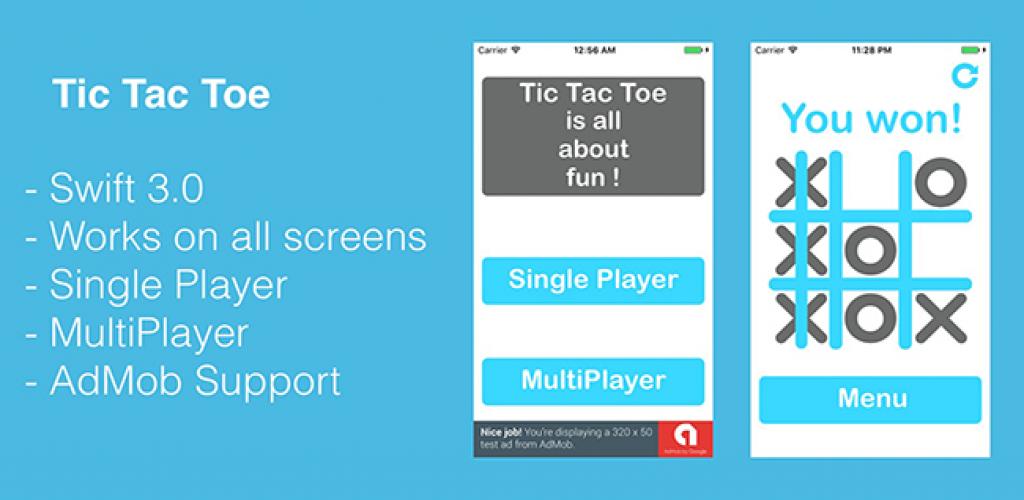 Screenshots
Overview
This is a simple Tic Tac Toe app coded with Swift 3.0. It has two game modes you can play with other person on one phone turn by turn, or you can play with the phone.
Features
- Include Google AdMob
- Fully functional Tic Tac Toe game
- Works on any iPhone model.
- Comparable with iOS 8 , IOS 9 and iOS 10.
- Very Easy to customize, throught Storyboard, you can change images.
- Clean & well commented code. All functions are well commented.
- Auto resize for all screen sizes, allows to display proper all elements.
- Swift 3.0.
How to Setup and Re-skinning
You can change settings all of game process, it's easy, you just need to change value in settings file.
Project have good documentation and you can contact us for solve your problem!
Last Update - Nov 16th, 2017
*Send us your email address, then we'll send you a sample app

14 Days
Money Back Guarantee
Framework & Platforms

Category
Operating System
iOS 10.x
File Included
.h, .m, .nib, .swift, .xib, Layered PNG, Layered PSD
Tags
application, iOS, game, full, admob, fun, swift, ads, timekiller, tic tac toe, tictactoe, ios10, fullaplication, tac, tic