Touch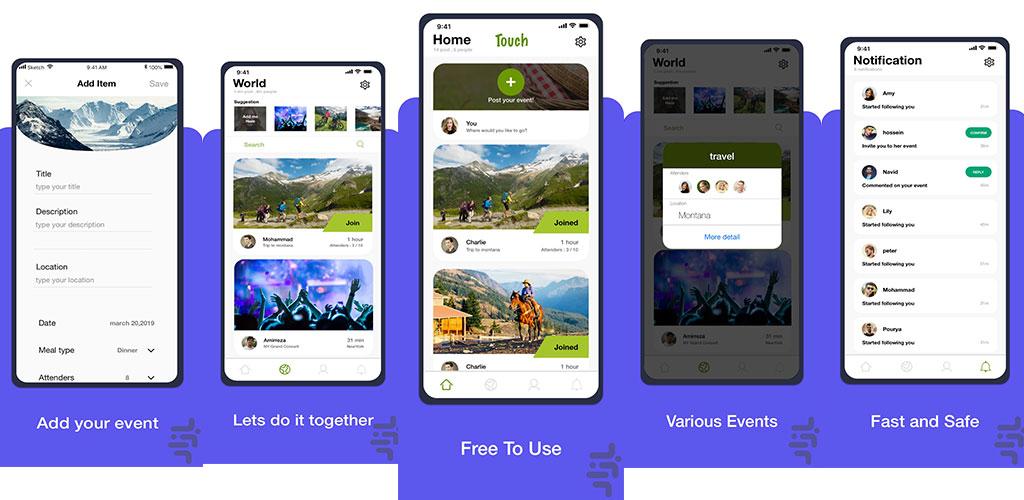 Screenshots
Overview
Share your favorite activities with your friends all over the world and do them together!
Touch is an event-based social media application. Each user can observe and take part in people's public
events in his profile after signing up. They can also follow those events' publishers and monitor their
events in the first page of the app.
Touch users are able to search different kinds of places on the map, such as travel agencies, journeys,
etc. These places have registered in Touch to be on the map and let other people follow events they
post.
There is no limitation over the number of followers that users can have. For publishing a new event,
users can just choose their event's category and fill out needed and necessary information. They will be
able to edit the information if they need to.
Reporting inappropriate events and any bad or immoral content is available. Users can also observe the
most popular events, the whole number of users in the app and the number of events published in the
world.
Push Notification Service is used for informing users.
Touch's design architecture is mainly based on open-layer method at all the steps of designing. The color
harmony of the user interface, which was decided to be green, make users more comfortable in using
the app.
All these files related to UI, will be delivered by server-side files and the main source of the application.
Features
Flexible and understandable coding, which can be used for teaching, learning or developing
more features in next versions.
Multilingualism (English, French and Portuguese are supported. )
Professional open-layer graphic designing.
Professional open-layer icon designing.
Using push notification service.
Various events like concerts, cinema, restaurant, meeting and traveling are supported.
Flexible coding which enables any developer to add more event types are categories.
Updating and editing profile settings after registration.
Announcing message to the event publisher user. (When the capacity is full.)
Using tags for events searching between them.
Being able to mute the notifications' sound.
Settings menu.
Following contacts on the phone.
Giving client side and server-side files to the developer.
Crash report and statics system.
Adding biography to the profile.
Profiles will be hidden unless users follow.
Adding title, definition, location, event's maximum capacity and more to each event.
Libraries' authorization, that were used in coding, are available.
Considering user privacy and google standards and rules.
Safe SSL connection with server for data exchange.
API>=19
How to Setup and Re-skinning
Open in android studio and sync gradle .
change Host Address in ServiceGenerator.java class and put all the server side files inside your server file manager .
Video
Last Update - Mar 23rd, 2019
*Send us your email address, then we'll send you a sample app

14 Days
Money Back Guarantee
Framework & Platforms

Category
App Template > Social Networking
Operating System
Android Studio
File Included
.java, .xml
Tags
Android, Social_Media, Push_Notification, Design, Custom
Video