iOS Filters Camera App for iPhone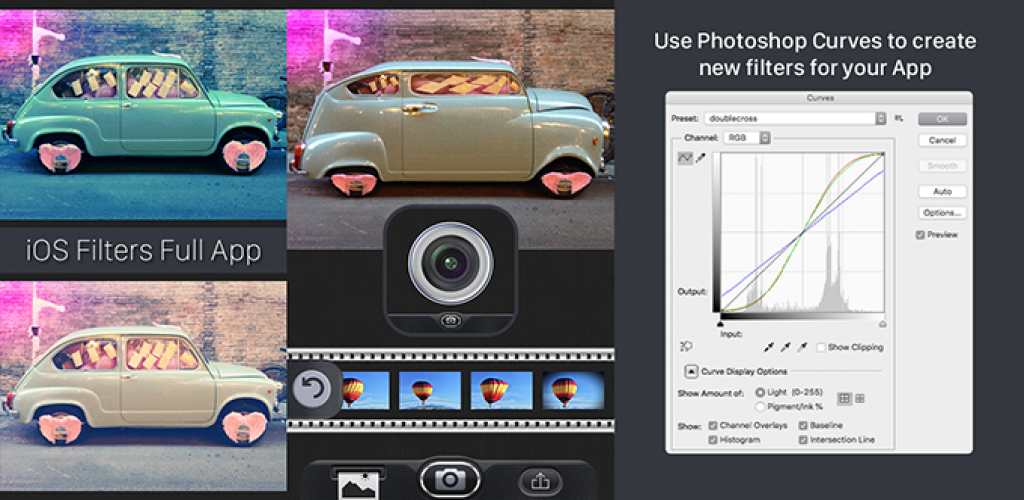 Screenshots
Overview
Endless possibilities to create new custom filters using the CURVES in PHOTOSHOP
Easy to RESKIN and CUSTOMIZE
(.pdf instructions files included in the .zip file)
Compatible with iOS 10.3 and above.
FILTER LIST:
⁃ Kodak Portra
⁃ Cross Process
⁃ Diana
⁃ Negative
⁃ Color Negative
⁃ Matte
⁃ Vignette
⁃ Stretch Distortion
⁃ Pinch Distortion
⁃ Bulge Distortion
⁃ Swirl
⁃ Posterize
⁃ Emboss
⁃ Toon
⁃ Smooth Toon
⁃ Sketch
⁃ Crosshatch
⁃ Polar Pixellate
⁃ Pixellate
⁃ Sepia
⁃ Black and White
⁃ Vintage
⁃ Rise
⁃ Green Purple
⁃ Doublecross
⁃ Aqua
⁃ Amaro

Files included:
Curve files
High resolution Image files
Icon files
Launchscreen files
Storyboard file
PDF instructions files
Created with Xcode Version 10.1 (10B61)
Features
The App is a full Application ready to be published and requires only a very basic knowledge of xcode.
The App give you the possibility to create your custom filters using the curves in Photoshop. To use the curve in Photoshop is very easy and requires a very basic knowledge of Photoshop. Alternatively, you can easily download some free curves preset on the web.
How to Setup and Re-skinning
HOW TO RESKIN:
Simply replace the .png files in the "images" folder paying attention to keep the same height and width dimension and the same names.
HOW TO REPLACE FILTERS:
Simply replace the .acv files in the "curves" folder.
Last Update - Jul 11th, 2019
*Send us your email address, then we'll send you a sample app

14 Days
Money Back Guarantee
Framework & Platforms

Category
Operating System
iOS 10.x
File Included
.h, .m, .xib
Tags
filters, camera, photoshop, vintage, lomo, cross process, kodak, photo, photos, pictures, curves, reskin